Congress Renews NDBC Franchise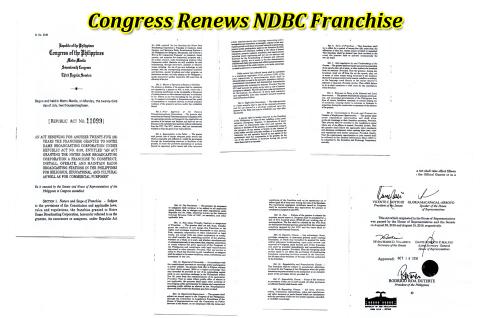 On October 18, R.A. 11099, "An Act Renewing For Another Twenty-Five (25) Years The Franchise Granted To Notre Dame Broadcasting Corporation Under Republic Act No. 8109, Entitled 'An Act Granting The Notre Dame Broadcasting Corporation A Franchise, To Construct,  Install, Operate And Maintain Radio Broadcasting Stations In The Philippines For Religious, Educational And Cultural As Well As For Commercial Purposes'."  Hence, NDBC continues to be of service to their listeners for the next twenty-five (25) years.
Presently the network is spearheaded by Chief Executive Officer, Fr. Rogelio C. Tabuada, OMI.  Supporting him in the branches were they operate are the Station Managers:  Ms. Grace Vergara-Tanghal, NDBC-Kidapawan; Mr. Carlos C. Bautista, NDBC-Cotabato;  and Mr. Edwin O. Fernandez, NDBC-Koronadal. 
Meanwhile, NDBC-Media Marketing is headed by Chief Operating Officer (COO) and National Sales Director Mr. Rikki D. Climaco, while, Regional Sales Director is Ms. Agnes Myra L. Piñol.